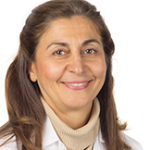 Nelly Oundjian, MD, Director of the Cancer Genetics Program
Dr. Oundjian is board-certified in pediatrics and clinical genetics and is an Assistant Clinical Professor of Pediatrics at Columbia University College of Physicians and Surgeons. Dr. Oundjian received her medical degree with honors from Aleppo University School of Medicine in Syria. She completed her residency in pediatrics at Harlem Hospital in New York and her post-doctoral fellowship in clinical genetics at Columbia-Presbyterian Medical Center in New York. Dr. Oundjian is a member of the American Society of Human Genetics.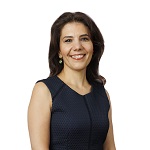 Myriam Kawaja, MS, CGC, is a licensed and certified genetic counselor at Highland Medical, P.C., Breast Surgery located in Nyack, NY. She received her Master of Science in Human Genetics as well as her undergraduate degree from Sarah Lawrence College in Bronxville, NY. She is certified by the American Board of Genetic Counseling.
Dr. Oundjian and Myriam Kawaja work with a team of specialists to provide immediate attention to your specific health concerns. The team includes general surgeons, breast surgeons, radiologists, pathologists, plastic surgeons and oncologists.