The Diabetes Education Program at Montefiore Nyack Hospital, which is accredited by the American Association of Diabetes Educators, serves community residents with type 1, type 2 and gestational diabetes.
Our diabetes specialists include a certified diabetes nurse educator and a registered dietitian/nutritionist who will work with you and your physician to ensure that you receive the very best coordinated care.
We offer individual and group counseling sessions to teach people at risk for type 2 diabetes what steps they can take to prevent it, and to help patients who have diabetes manage the disease, avoid complications and live healthier lives. We also educate parents of children who have diabetes.
To schedule an appointment with one of our diabetes specialists or for more information, call Community Health Education at 845-348-2004.
About Diabetes
When a person has diabetes, his or her body doesn't make enough insulin—a hormone that helps cells use blood sugar for energy—or can't use insulin as needed. The number of American adults diagnosed with diabetes has doubled over the last 20 years with more than 37 million people now affected by the disease. An additional 96 million Americans have prediabetes, a condition that raises a person's risk for type 2 diabetes—the most common form. The Centers for Disease Control and Prevention estimates that 20% of Americans with diabetes and 80% of those with prediabetes don't know they have those conditions.
There are three major types of diabetes:
Type 1 diabetes happens most often in children and young adults but can appear at any age. In people with this type of diabetes, the body stops making insulin so they must take it daily.
Type 2 diabetes, the most common form of the disease, is usually diagnosed in adults. In people with this type of diabetes, the body can't keep insulin at normal levels on its own. Type 2 diabetes can be prevented or delayed by losing weight, increasing activity and making healthy food choices.
Gestational diabetes affects 6-9% of pregnant women. Usually, it resolves after birth, although women who had gestational diabetes are at increased risk of developing type 2 diabetes later in life.
LEARN MORE

For appointments and Information call the Community Health and Education Department at 845-348-2004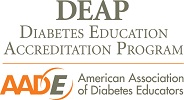 More Information
Appointments and Information
Community Health and Education Department