Total joint replacement surgery removes a damaged or diseased joint and replaces all or part of it with a prosthesis that replicates the movements of a healthy joint. Orthopedic surgeons at the Joint Replacement Center at Montefiore Nyack Hospital specialize in advanced treatments, including minimally invasive surgical approaches that minimize pain and speed recovery.
Partial and total hip replacement:
Anterior approach 
Posterolateral approach
Primary and revision surgery
Robotic Assisted total hip replacement surgery using 

Stryker's Smart Robotics system MAKO
Partial and total knee replacement:
Primary and revision surgery
Oxford and MAKOplasty partial knee replacement
Robotic-assisted total knee replacement surgery using the Zimmer Biomet ROSA surgical robot or 

Stryker's Smart Robotics system MAKO
Robotic-Assisted Hip and Knee Surgery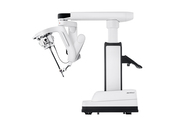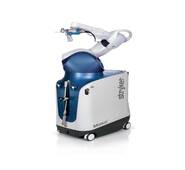 When appropriate, our orthopedic surgeons use robotic technology in planning and performing total hip and knee or partial knee replacement surgery. Montefiore Nyack Hospital is the only hospital in Rockland County to offer two robotic systems: Zimmer Biomet's Robotic Surgical Assistant Rosa, and Stryker's Smart Robotics system MAKO.
With robotic surgery, the robot is not performing the surgery. The procedure is performed entirely by your surgeon, using the robot as a tool to improve accuracy in planning and then as a guiding tool for increased preciseness during surgery.
Before the surgery, specialized imaging is taken to generate a 3D image which assists in surgical planning.  ROSA uses a patient X-ray, and MAKO utilizes a CT scan. The robotic system uses a camera and optical trackers which function like a GPS to provide data which helps your surgeon position the implant precisely based on your unique anatomy. 
After Surgery
Following surgery, you'll be hospitalized based upon the recovery plan your surgeon decides is best for you. Recovery time varies, but your hospitalization may range from one to three days.
Rehabilitation
Each patient's rehabilitation therapy needs are carefully evaluated, and an individualized care plan is developed. Patients receive physical therapy during their hospital stay, at a rehabilitation center after discharge if needed and on an outpatient basis once home. Occupational therapy services are also available for people who require assistance with activities of daily living.
LEARN MORE

Robotic Assisted Surgery - Two Advanced Systems Offering Greater Options.

Robotic-assisted surgery for knee replacement.

 
More Information
Appointments and Information